Darlington council wrong to take child from EDL father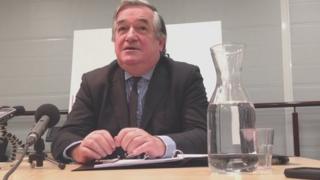 A judge has condemned a council for taking a baby from its father after raising concerns about his links to the English Defence League (EDL).
The child, who cannot be named, was born when his mother was in prison.
Darlington Borough Council took the boy into foster care, labelling the EDL "immoral" and "racist".
Ordering the child to be returned to his father, Sir James Munby said the way the case was handled was "an almost textbook example of how not to do it".
Sir James, President of the Family Division of the High Court, adjudicated on an adoption application brought by the council.
His criticisms came in a written ruling following a family court hearing in Middlesbrough.
Under-age sex
The mother had not put herself forward as a potential carer of the boy, who is now aged 13 months, but had supported the father's bid for custody.
But social services staff said the youngster should be adopted, raising concerns that his father, now in his mid-20s, had at one stage had some involvement with the EDL.
Staff also said that, when aged 17, the father once had sex with a 13-year-old girl and accepted a police caution.
A social worker said the nature of the values and beliefs of the EDL were "immoral" and the nature of the "offences" the man had committed against the 13-year-old girl were "immoral".
But Sir James said: "The city fathers of Darlington and Darlington's director of social services are not guardians of morality. Nor is this court.
"It is an undoubted fact of life that many youths and young men have sexual intercourse with under-age girls.
"But if such behaviour were to be treated without more [evidence] as grounds for care proceedings years later, the system would be overwhelmed.
"Some 17-year-old men who have sexual intercourse with 13-year-old girls may have significantly distorted views about sex and children, and therefore pose a risk to their own children of whatever age or gender, but that is not automatically true of all such men."
'Harping on'
The judge added: "The mere fact, if fact it be, that the father was a member, probably only for a short time, of the English Defence League is neither here nor there, whatever one may think of its beliefs and policies.
"It is concerning to see the local authority again harping on about the allegedly immoral aspects of the father's behaviour."
Ada Burns, chief executive of Darlington Borough Council, said: "In this case we should have given greater consideration to placing the child with the father.
"We have taken the issues raised by Sir James Munby on board and used them to review our practice and support to families.
"The responsibility for this has been fully accepted by the senior management and leadership of the council."