Hundreds in low pay protest at Wilton Sita plant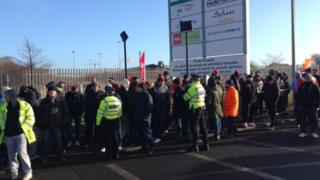 Hundreds of construction workers gathered in Teesside to protest against low pay at a new energy plant.
Unions accused the consortium Sita Sembcorp of using low-paid foreign labour and underpaying local workers at its waste incinerator in Wilton.
Between 300 and 400 workers turned up to protest and traffic disruption has been caused as a result.
Sita, the company that leads the consortium, denied the firm was underpaying workers.
Protestors are concerned foreign workers are being used to undercut local workers, but also that local workers on the site are not being paid nationally agreed rates, Unite said.
The site is currently under construction and is due to be operational in 2016.
Steve Cason from Unite, which represents workers at the site, said: "This is the people speaking. You can see today these are just people who live in Teesside, who work in Teesside, who want to see equality and fairness and they feel it isn't being adhered to."
Andy Stokes from Sita said: "In terms of the allegations being made by the protesters, we have made it clear that contrary to their claims, more than two-thirds of the workers on site are from the UK and all workers on our site have rates of pay equivalent or higher to each of their relevant national agreements."