Cleveland Police accused of Wilton plant protester witch hunt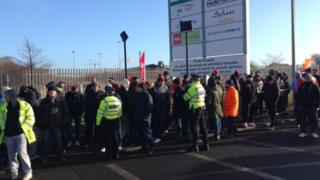 A union has accused Cleveland Police of targeting members in a "witch hunt", over protests at a new energy plant.
The GMB claims police "targeted" unemployed construction workers for questioning ahead of Monday's protest.
Protests took place at Wilton-based Sita Sembcorp, which the union claims is using low-paid foreign labour and underpaying local workers.
Cleveland Police said officers actually openly sought to engage with organisers to ensure it went ahead safely.
Concerns have been raised foreign workers are being used to undercut local workers, but also that local workers on the site are not being paid nationally agreed rates.
'Improperly impeded'
Phil Whitehurst, GMB national officer, said: "We need to know who instigated this witch hunt, why were unemployed construction workers targeted for questioning, how the police got their names and private mobile telephone numbers and home address.
"We need to know why were they, rather than the union, linked to the planning, or knowledge of this peaceful protest."
Ch Supt Adrian Roberts, of Cleveland Police, said: "Police identified that the protest would coincide with rush hour and due to existing roadworks, that there would be substantial congestion.
"Public safety is paramount and with a site of this nature, there was an absolute need to ensure the ability of emergency service vehicles to enter and leave the site in the event of an emergency."
Ch Supt Roberts said in order to "establish a working dialogue" with protesters, officers made direct contact with an individual via telephone, but having generated no response, the person was visited at his home.
He added there was "no suggestion whatsoever" that the right to protest would be "improperly impeded".
But, the GMB is now calling on police and crime commissioner Barry Coppinger to investigate its claims.
In a statement, Mr Coppinger said: "I have not received any correspondence or complaint from the GMB or any other individual or organisation with regard to the matters reported in the local media.
"If I do receive such correspondence I will act appropriately."
The site is currently under construction and is due to be operational next year.