Cigarettes seized from West Auckland ice cream van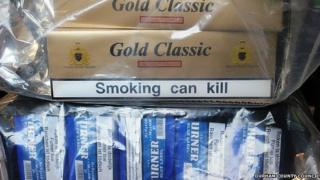 Thousands of cigarettes have been seized by police and trading standards officers from an ice cream van in County Durham.
A man and a woman were arrested after the vehicle was searched on a farm in West Auckland on Wednesday.
The search yielded 4,560 cigarettes, 20kg of hand rolling tobacco and cash.
A spokesman for Durham County Council said the van was known to have parked close to a number of primary schools throughout the county.
He said the cigarettes were believed to be so-called "cheap whites" made for the illegal market and the hand rolling tobacco was believed to have been smuggled.
Joint operation
The estimated street value of the haul was more than £4,000.
Joanne Waller, head of environment, health and consumer protection at Durham County Council, said: "It is extremely concerning to receive information about suspected illegal tobacco being sold in the vicinity of schools.
"It is important to be clear that we do not know if tobacco has been sold to any children in this instance, but we would obviously never wish for young people to be exposed to this type of activity."
Wednesday's raid was the latest in a series of joint operations between Trading Standards and police, with more than 53,600 illicit cigarettes and 1,249 pouches of illicit tobacco seized in the county since April 2014.