Cleveland Police apologises to missing Donna Keogh's family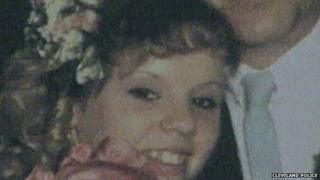 Cleveland Police has apologised to the parents of a Teesside woman who went missing 17 years ago as it launched a review of her case.
Donna Keogh was 17 when she was last seen in Middlesbrough on 19 April 1998.
Her parents Brian and Shirley have previously criticised the police for not doing enough in their investigation.
The force said it acknowledged their views but was still focussed on finding out what happened to Ms Keogh.
Deputy Chief Constable Iain Spitall met Ms Keogh's parents earlier this week and said he had given them his personal guarantee that every effort was being made to find their daughter.
'Somebody knows'
He said he had apologised to the couple and was launching a comprehensive review of the police investigation.
Speaking to BBC Tees' Neil Green, Mr Spitall said: "Both Brian and Shirley over the 17 years have felt unhappy with the support they feel they've had and the organisation's focus to try and find out what happened to Donna.
"It was absolutely appropriate that I apologise on behalf of the organisation for putting two parents in a position where they felt we didn't care enough about what happened to their daughter."
Mr Spitall also urged anyone who knew what happened to the teenager to get in touch.
"Somebody knows what happened to Donna," he said.
"Seventeen years on is still the right time to come forward and bring to an end 17 years of not knowing what happened."
Ms Keogh's mother said the apology had been accepted and welcomed the review.