Wilton Sita plant: Demo over 'low pay' and 'discrimination'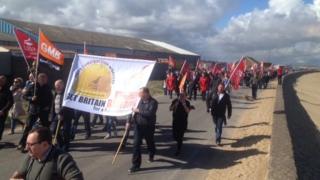 Hundreds of construction workers are staging a demonstration over claims of "low wages" and "discrimination" at a new energy-from-waste plant.
Unions are accusing the consortium, Sita Sembcorp, of using low-paid foreign labour and underpaying locals at its waste incinerator in Wilton.
The site is currently under construction and is due to be operational in 2016.
Sita, the company that leads the consortium, denied the claims.
Hundreds of workers are marching near the construction site waving union banners.
Michael Blench of the GMB said local workers were being discriminated against, while "cheap" labour from Europe was being used.
Steve Cason of Unite added: "Other issues raised included bonus and overtime rates, as well as holiday pay, and the contractors have been asked to provide answers to these questions.
"Our members have expressed serious concern about the lack of opportunity to train the next generation of apprenticeships to acquire the skills and experience to maintain these plants in the future."
Union access
But a statement from SITA Sembcorp said union officials were to be invited to the site.
It said: "Allegations continue to be made about the employment of foreign workers at Wilton, including claims about low rates of pay and accommodation allowances.
"We refute all of these allegations - there's no evidence to support any of these claims.
"All of the workers, irrespective of their nationality, have rates of pay equivalent or higher to each of the unions' relevant national agreements.
"Sembcorp UK has granted union access to the site so that they may satisfy themselves of these facts."
It also said the company held a jobs fair to recruit locals.