Man accused of Middlesbrough couple cruise ship attack 'ashamed'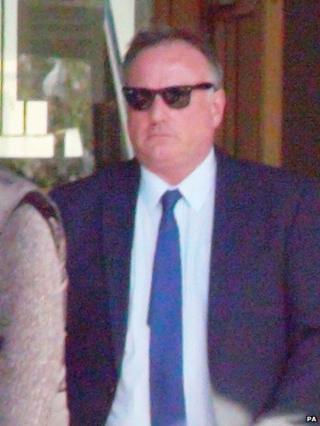 A man accused of attacking two Middlesbrough pensioners on a cruise ship has told a court he feels "deeply ashamed" about the incident.
Ron Phillips, 70, was repeatedly punched as he took cocoa back to the cabin he shared with his wife June, 68, Teesside Crown Court heard.
Graeme Finlay, 53, from Glasgow, denies unlawful wounding and assault during the 2014 cruise around Lanzarote.
He claimed he had been struck and acted in self-defence.
Mr Finlay told the jury he had drunk two pints of lager, three glasses of red wine and about five vodka and cokes on the evening of the alleged attack.
He said he had been travelling on the Thompson Celebration alone and had been "largely ignored" by a group of diners, including Mr and Mrs Phillips.
Knocked unconscious
He told the court he later met Mr Phillips in a lift, at which point an argument began.
The pair continued to argue as they got out of the lift, with Mr Finlay claiming he was struck and lashed out in self-defence, the court heard.
He said Mrs Phillips had appeared out of their room, but he denied injuring her in any way.
Mr Phillips was treated by the ship's medical staff for a head wound and his wife was knocked unconscious, the court heard.
When asked by Peter Kilgour, defending, how he felt about the incident, Mr Finlay, of Meadowside Quay Walk, said: "I feel deeply ashamed I have been involved with such a thing. I was shocked to hear about their injuries.
"I've found it hard to live with the shame of it. The alcohol clouded my judgement. I would never have done this if I was sober, I would have run away."
Mr Finlay, who also denies causing grievous bodily harm, was questioned by police in the UK and accepted he hit Mr Phillips, but did not accept causing the injury to Mrs Phillips.
The trial continues.