Man cleared of attacking couple on Lanzarote cruise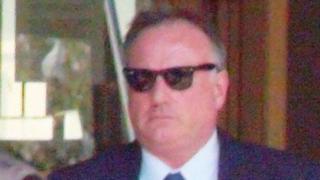 A man has been cleared of attacking two pensioners on a cruise ship after claiming he acted in self-defence.
Graeme Finlay, 53, from Glasgow, had an altercation with Ron Phillips, 70, and his wife June, 68, from Teesside, aboard the Lanzarote cruise in January last year.
A jury at Teesside Crown Court cleared him of unlawfully wounding Mr Phillips and causing grievous bodily harm to Mrs Phillips.
Mr Finlay said he was "relieved".
The incident stemmed from Mr Finlay feeling they snubbed him at dinner when he was sat at their table.
After bumping into each other at about 01:00 in the lift on the way back to their rooms, Mr Finlay raised the issue of dinner and tempers flared.
He said they ended up outside the couple's room where he was struck by something sharp and swung his arms in self-defence.
He told his trial the incident had left him feeling "deeply ashamed" and he had not meant to cause them any harm.
After deliberating for less than an hour, the jury found him not guilty of the two charges.
Speaking outside the court, Mr Finlay said: "I'm delighted and relieved.
"I'm still very sorry about everything that happened but I told the truth. I'm very relieved, I stood to lose everything."