Nepal earthquake: Nick Talbot hurt in Everest avalanche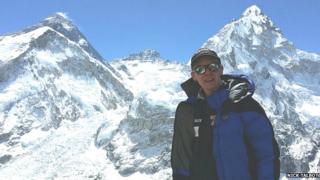 A man aiming to be the first person with cystic fibrosis to climb Everest, has been hurt in the Nepal earthquake.
Nick Talbot, from Hamsterley, County Durham, suffered cracked ribs and hypothermia in an avalanche triggered by Saturday's quake.
The 39-year-old, who wanted to raise £100,000 for the Cystic Fibrosis Trust, was airlifted from Pumori Advanced Base Camp to a hospital in Kathmandu.
More than 2,000 people have died in the earthquake.
A number of other British climbers are understood to be stranded on Everest.
Mr Talbot, a director for the Royal Institute of Chartered Surveyors, was three weeks into a two-month trek, when an avalanche was triggered on Everest by the quake, which had a magnitude of 7.8.
He is an experienced climber and reached the summit of the sixth highest mountain in the world, Cho Oyu, in 2011.
Chief executive of the Cystic Fibrosis Trust, Ed Owen said: "I have today been in touch with Nick's father, Keith, who has spoken to Nick by phone.
"Nick described his dramatic escape from the avalanche on Everest, in which he sustained cracked ribs and hypothermia.
"As a result of his injuries, Nick was airlifted out of Base Camp and is now in Kathmandu from where he is planning to return to the UK.
"Nick is obviously devastated by the widespread loss of life that has occurred.
"He is also aware of the support all of his friends and well-wishers at this difficult time."
Mr Talbot tweeted on Monday: "Tough 48 hours after earthquake tsunami of snow, rock and ice hit base camp. Bruised, battered & lucky to be here, thx for all the kind msgs."
The UK Foreign Office (FCO) has released an emergency number +44 (0) 207 008 0000 for British nationals needing assistance and advised Britons in the area to stay "in a place of safety".
There are an estimated 300,000 foreign tourists in Nepal, with several hundred of those on Everest.
The quake struck an area of central Nepal between the capital, Kathmandu, and the city of Pokhara on Saturday morning.
A 6.7 magnitude tremor was felt on Sunday and more avalanches were reported near Everest, leaving many climbers and guides cut off from the devastated base camp