Deerbolt young offenders' institution 'generally safe'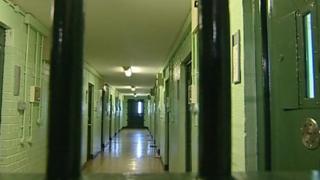 A County Durham young offenders' institution is "decent and generally safe" but faces challenges with drugs, violence and education, a report said.
An unannounced inspection of HMYOI Deerbolt did show some violent incidents were serious and inmates had used new "psychoactive substances".
It noted however, there had been no self-inflicted deaths.
There was also respect between inmates and staff but it was not clear if all force used was proportionate, it said.
Chief Inspector of Prisons Nick Hardwick said: "While Deerbolt remained a decent and generally safe prison, some key challenges were evident.
"Action to address the supervision of force started as soon as we raised concerns with the prison management, and needed to be quickly resolved."
'Challenging agenda'
Described by Mr Hardwick as a prison, the institution near Barnard Castle was hit by rioting in the mid 2000s. In 2007, a prison officer suffered a fractured skull and three others were injured.
And in April, a rooftop protest by three inmates, one armed with a hammer, ended peacefully after lengthy negotiations with staff.
The prison's population has recently changed and it now holds 18-21-year-olds mainly convicted of violent and serious offences.
The inspection, in December, found those likely to self-harm were supported and the substance abuse recovery unit was excellent.
Activities were being improved and resettlement support was very strong, the report said.
But some aspects of teaching, including inmates' English and maths ability, provision needed "urgent attention".
"This is a challenging agenda but Deerbolt remains one of the better young adult prisons we have inspected," Mr Hardwick said.