Hartlepool and Liverpool drug dealers jailed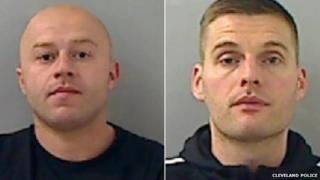 Four drug dealers who flooded the North East with cocaine and amphetamines valued at up to £30m have been jailed.
Teesside Crown Court heard an organised group from Hartlepool plotted with criminals in Liverpool to bring "vast quantities" of drugs to the region.
Prosecutors said the gang used sophisticated anti-surveillance techniques to try to avoid detection.
Others involved in what police called a "sophisticated operation" are due to be sentenced next week.
Liverpool gang member Ian Stanton, 44, was jailed for 16 years while Keith Watson, 38, also part of the Merseyside group, got 15 years and four months.
Adrian Morfitt, 29, from Hartlepool, got 12 years and David Garside, 30, also a key player in the North East gang, got 11 years and eight months.
They admitted their part in a conspiracy to supply drugs.
In a major investigation by organised crime officers, 4.25kg of cocaine, 122kg of amphetamine, 100 litres of amphetamine oil and 35kg of cannabis were seized.
The court was told the gang dealt in drugs with an estimated street value of up to £30m.
Speaking after Thursday's sentencing, Det Insp Sarah Robinson from Cleveland Police said the gang ran a multimillion-pound operation which had distributed hundreds of kilograms of controlled drugs.
She said: "These sentences will not only be served by those going to prison but will also have a huge impact upon their children and families."