Blind Jack Russell and canine 'guide' adopted after appeal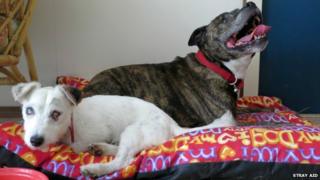 A home has been found for a blind Jack Russell dog and his best friend and guide, a Staffordshire Bull Terrier.
Rescuers had struggled to find a home for Glenn and Buzz who had been abandoned in a sea tunnel in Hartlepool.
After the pair's story went viral on social media, the centre was overwhelmed with offers to adopt the dogs from around the world.
Glenn and Buzz are now living with their new owners in the UK.
The pair spent four weeks in a rescue home in Coxhoe, County Durham before their story was reported nationally.
People around the world read about the pair on social media, and soon the charity Stray Aid was receiving offers of adoption from Australia, South America, Canada and the United States.
Stray Aid say it was love at first sight when the pair met their new owners.
Charity trustee Susan Critchlow said: "Seeing them go off to start their new life was emotional.
"We're sorry to see the dogs go, but delighted to have found them such a loving and supportive new home."