Darlington school parents told to 'wash and get dressed' respect rule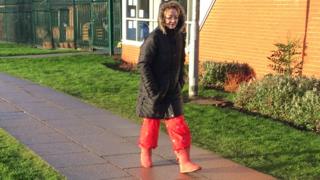 Parents asked to avoid wearing pyjamas on the school run have - for the most part - respected the new rule.
Kate Chisholm, head teacher of Skerne Park Academy, Darlington, wrote to parents to make the request after some wore nightwear to drop their children off and to parents' evenings.
Ms Chisholm said many parents had been supportive, and on Wednesday morning most were dressed appropriately.
However, one parent appeared to flout the ban, saying she was running late.
Karen Louth, who dropped her child off while wearing red pyjamas, said she did normally get dressed.
"What would I rather have? My child late for school or me in my pyjamas?" she said.
"If I could have got dressed, I would have done, believe me. I have a bad back and I was just a little stuck getting ready, that's all it was."
Ms Chisholm said the aim of her letter was to set a good example for pupils at the primary school.
"It just got to the point when I thought 'enough's enough'," she said.
"I'm not trying to tell people what to do with their lives, but I just think having a really good role model first thing in the morning, getting yourself up, getting yourself dressed, ready for business, out to school is a really good example to set.
"I'm afraid wearing pyjamas, going to school, maybe doesn't reinforce that somehow.
"If we're to raise standards it's not too much to ask parents to have a wash and get dressed."
The story has attracted a lot of reaction on social media, where one Facebook user commented: "Is anyone else going crazy over people saying 'at least they're getting the children to school'.
"Absolutely infuriating! As if getting them to school is the be all and end all.
"You've chosen to bring a human into this world, start being the role model they deserve!!"
But Caroline Bowstead said the most important thing was to get children to school.
She said on Facebook: "You can get some crackling onesies nowadays.
"If they're wearing their pyjamas on the school run, they're at least taking their kids to school - some parents don't bother sending them."
---
Are you a parent or teacher at Skerne Park Academy? What are the strangest clothes parents have dressed in at your child's school? Let us know your experiences. Email haveyoursay@bbc.co.uk with your stories.
Please include a contact number if you are willing to speak to a BBC journalist. You can also contact us in the following ways: