Pokemon Go: Redcar MP raises 'disrespect' with Nintendo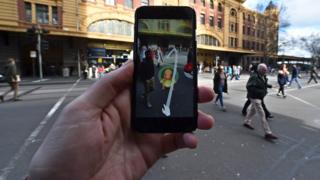 An MP has complained to Japanese gaming giant Nintendo over children "charging around" a cemetery playing Pokemon Go.
Redcar Labour MP Anna Turley has also written to Home Secretary Amber Rudd about the augmented reality game.
She asked what discussions had taken place with the company about "trespass or disrespecting of cemeteries or religious sites caused by players".
"I don't want to be a killjoy but there are some genuine concerns and standards we have to think about," she said.
"People are upset and worried about what message it sends out, as it's a place people go to find solace and peace and I don't think it's appropriate," she said.
Respectful conduct
Ms Turley asked Nintendo to consider avoiding places of worship and cemeteries after a constituent contacted her about the "impact on the people paying their respects to loved ones", she said.
Game guidelines set out by Nintendo and its co-developer Niantic remind players to be respectful and conduct themselves "in an appropriate manner".
"Remember, certain interactions that seem harmless or fun to you may be perceived in a different way by bystanders or other players," the game's website says.
A number of players have been getting into trouble since the game was released earlier this month.
In County Down a man jumped out into a busy dual carriageway while trying to catch a Pokemon, children got lost in caves in Wiltshire and, in America, a man crashed into a police car while playing behind the wheel.