Bowes Museum Silver Swan flies nest for robot exhibition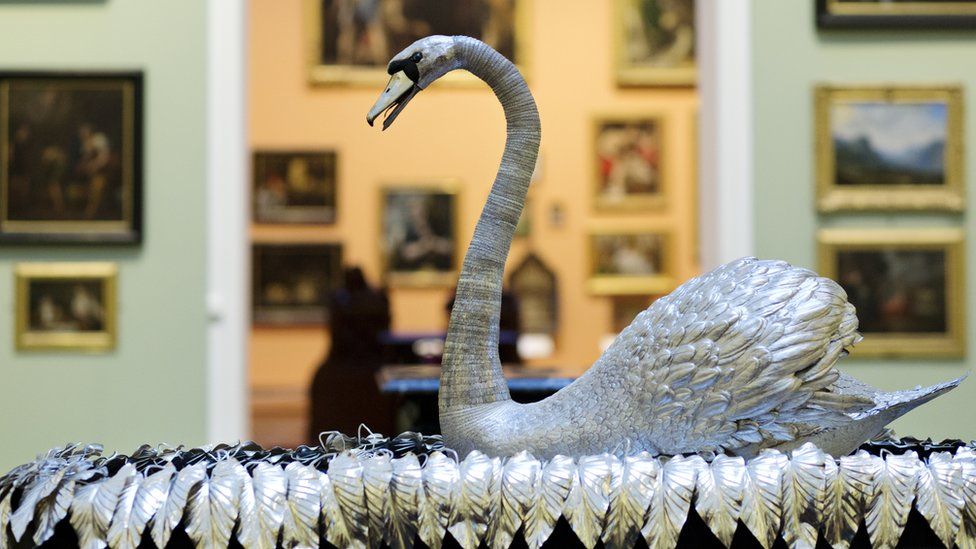 A 240-year-old musical automaton is set to leave its County Durham home for an exhibition in London.
The Silver Swan - considered the emblem of the Bowes Museum - will become one of the star attractions in the Science Museum's "Robots" show in February.
The life-sized artefact, which comes to life once a day, twists its head, preens, and catches a fish.
It will be the first time it has left the museum since it was purchased by the founders in 1872.
The Silver Swan will be on show for the first six weeks of the exhibition before returning to its home at Barnard Castle for Easter.
Dating from 1772, the metal structure rests on a "stream" made of twisted glass rods interspersed with silver fish
Its three separate clockwork mechanisms were made by Belgian horologist and inventor John-Joseph Merlin, who also invented inline skates
First appeared at the Mechanical Museum of James Cox, a London showman and dealer, in 1774
Described in the Mark Twain novel The Innocents Abroad, after the American author saw it at the 1867 Paris Exhibition
Bought by museum founders John and Joséphine Bowes in 1872 for 5,000 francs (£200)
Bowes Museum's head of collections, Jane Whittaker, said: "This is a wonderful opportunity to show the Silver Swan in an entirely different context.
"It will give those who see it pause for reflection on the sheer scale of achievement in its design and workmanship and on what it says about the time of its creation in the late eighteenth century - literally astonishing."
Exhibition curator Ben Russell said: "We are thrilled that one of the greatest 18th-century automatons will be part of our exhibition.
"The Swan is an amazing evocation of life, and makes us reflect on our endless fascination with replicating living things in mechanical form."
Related Internet Links
The BBC is not responsible for the content of external sites.