Darlington's football club returns to hometown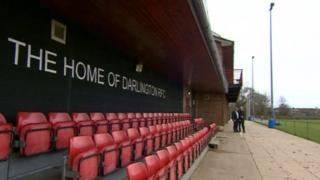 Darlington's football club - now known as Darlington 1883 - has played its first match in the town for nearly five years.
It has been sharing a ground with Bishop Auckland FC since the original club went into administration in 2012, forcing it to leave its stadium.
It has now moved to Blackwell Meadows, the home of Darlington Rugby Football Club.
Director Richard Cook said it was a "special moment for us all".
"Being a Darlington boy, born and bred, being a fan of the club all my life, to be involved in actually leading the redevelopment and getting Darlington home has been an amazingly proud moment," he said.
The National League North fixture attracted over 3,000 spectators. The club beat Halifax Town 3-2.
Darlington 1883 was required by the Football Association to change its name to differentiate itself from its old playing entity.
DFC 1883 Limited bought the assets of the former club's holding company through administrators.