Great North Air Ambulance increases blood plasma use after trial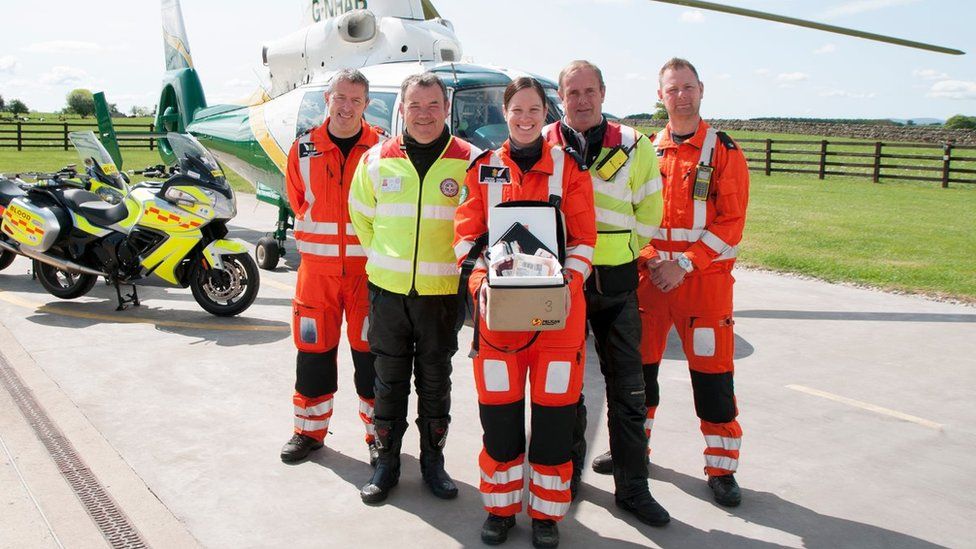 Three people probably would have died without a new blood plasma treatment which is now being extended, an air ambulance has said.
Since May 2016, one of the Great North Air Ambulance Service's two helicopters has been using plasma when treating patients with blood.
The charity said a review of five months data has proved a success so will now also use it on both aircraft.
Plasma helps form blood clots and stop bleeding.
The air ambulance, which is based in Darlington and at Durham Tees Valley Airport, said three of the 36 people who were given the plasma and blood mixture ended up being "unexpected survivors" thanks to the new treatment.
Aircrew doctor Rachel Hawes said: "We're delighted to see evidence that using fresh frozen plasma alongside red blood cell transfusions, when stabilising patients with life-threatening injuries, has had such a positive impact.
"Across the first five months of the new trial we have seen three unexpected survivors which is fantastic news."
Before May, patients would be stabilised using blood transfusions by the air doctor and then receive plasma upon arrival at hospital.
However, upon arrival a third of patients with severe bleeding were no longer able to form blood clots normally leaving them with bleeding which had spiralled out of control.
The air ambulance, which also flies from Langwathby near Penrith, said using equal volumes of red blood cells and plasma in transfusions prevents this from happening.
The plasma and blood mixture is delivered daily to the air ambulance by Northumbria Blood Bikes and Blood Bikes Cumbria, with support from the Henry Surtees Foundation, from the blood laboratories at Newcastle's Royal Victoria Infirmary.
Related Internet Links
The BBC is not responsible for the content of external sites.