Darlington toddler playground destroyed in arson attacks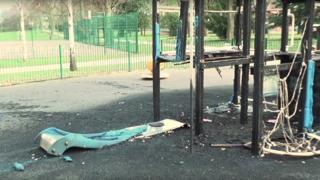 A charity has launched a fundraising bid to restore a County Durham playground which has been targeted twice by arsonists in as many weeks.
The fires, at the toddlers' play area in South Park in Darlington, destroyed climbing frames, swings and slides.
Now Groundwork North East is hoping to raise £23,000 to replace facilities.
The arson attacks on 20 February and 10 March are being investigated by police, who are studying CCTV footage of the area.
Lisa Locke, from Groundwork, said: "We felt saddened like many others about the vandalism to the play area and felt that we had to do something to bring the community together.
"South Park is such a popular park for many families throughout the year. but as spring approaches it's important that we try our best together to provide the toddlers with a new facility that they can enjoy again."
A spokesman for Darlington Borough Council added: "We are appalled by the mindless vandalism that has destroyed a popular area enjoyed by many young visitors to South Park.
"But we have also been heartened by the pledges of support already made via social media."