Bishop Auckland drug and alcohol support centre opens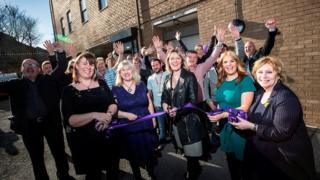 A new centre for people seeking help for drug and alcohol addiction has officially opened in Bishop Auckland.
Saddler House Recovery Centre will offer immediate access to people and their families needing support.
The centre replaces a previous service and has been jointly funded by Durham County Council and Public Health England.
The council said alcohol is a factor in 35% of violent crimes in County Durham and 40% of domestic abuse cases.
Joy Allen, Durham County Council's cabinet member for safer and stronger communities, said: "Services such as this are vitally important if we are to reduce the risks alcohol poses to safety, health, young people, the economy and the environment."
Anne Bell of Lifeline Services, who will run the centre, said: "We take people from every walk of life, including young people, families including grandparents, carers and veterans to help them to become free from addiction and then encourage them to become ambassadors to support their peers and promote the recovery message."