Middlesbrough Sikh-run homeless food scheme seeks volunteers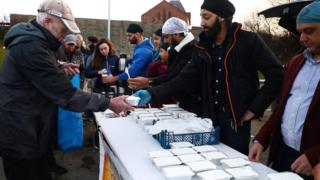 A scheme run by members of the Sikh community to provide food for homeless people is appealing for volunteers.
The Middlesbrough-based Guru Nanak's Free Kitchen project wants to expand across other parts of Teesside.
Volunteer Gurmail Singh said it was a "very important" part of Sikh culture to help people in need.
Rough sleeper Kevin Tymon said people on the streets were often forgotten, so the scheme "just goes to show you there are people out there that care".
David Isodje, who has also been given food by the scheme, said he was on benefits but found it "hard to get by".
Volunteer Tony Singh said the work left him "choked up".
"You're doing something good for somebody else and hopefully you would never be in that position," he said.
"But if you ever do fall on hard times there's somebody there to help you out."