Drug fugitive Jonathon Moorby arrested in Thailand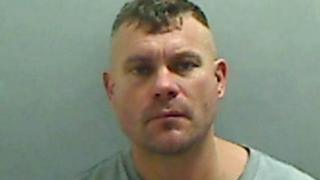 A British drug trafficking fugitive has been captured in Thailand after spending years on the run.
Jonathon Moorby, who was sentenced in absentia to 15 years in jail in 2014, was held on the island of Koh Samui.
Moorby, 47 of Middlesbrough, is due to be deported back to the UK, after also being ordered to pay back more than £0.5m under proceeds of crime laws.
He will be charged for holding a fake passport and illegally entering the country, Thai police said.
Moorby had been convicted of possession with intent to supply controlled class A and class B drugs, during the hearing in December 2014.
'Fake passport'
In July last year, he was ordered to repay £575,860 of he made through the trafficking, under the Proceeds of Crime Act.
Police were led to the drug dealer's hideout by tracking his son, who had come to visit his father, police Maj Gen Soontorn Chalermkiat said.
Moorby was arrested following a joint operation between Thailand's Narcotics Suppression Bureau and Interpol.
It is alleged the trafficker bought a fake Belgian passport on the Thai black market for a million baht (£22,000).