WW1 soldier Tom Dresser statue's Middlesbrough unveiling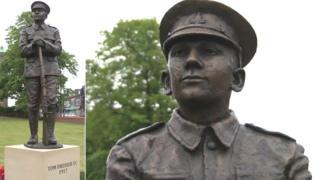 A statue has been unveiled in memory of a soldier who earned the Victoria Cross for his services during World War One.
In 1917, Pte Tom Dresser showed outstanding bravery during the Battle of Arras in Northern France.
The Middlesbrough man was shot while he ran through No Man's Land to deliver two messages, but went on to live until 1982 aged 90.
His family raised more than £50,000 to have it commissioned and it was unveiled at the town's Dorman Museum.
His grandson Brian, who was at the unveiling, said: "It's the culmination of a lot of hard work of a lot of people.
"He would have been utterly embarrassed by [the unveiling] and would have shied away from it totally."