Pocket money offer to arson-hit Rift House Primary School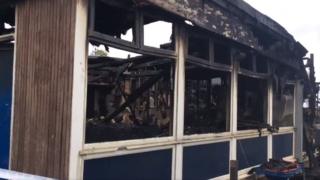 Pupils have been offering up pocket money to help repair their school which was badly damaged in an arson attack.
The blaze ripped through Rift House School in Hartlepool on 7 May, destroying the nursery and a classroom.
Chair of children's services for Hartlepool Council, councillor Alan Clarke, said the school was still open but the fire was "devastating."
Two boys, aged 12 and 14, have been arrested on suspicion of arson.
They have both been released without bail conditions, Cleveland Police said.
"This attack has appalled the people of Hartlepool. The nursery and a classroom were destroyed and will have to be rebuilt," Mr Clarke said.
"We've had nursery pupils offering up their pocket money so we can get the school up and running again - this has devastated the community."