'Industrial sized' cannabis farm found in Hartlepool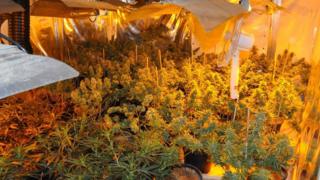 A "large-scale industrial sized" cannabis farm estimated to be worth about £400,000 has been discovered in Hartlepool, police said.
About 476 plants and electrical equipment were found across five rooms in a house on Brougham Terrace.
The plants were at "various stages of growth" and were a "significant find", Cleveland Police said.
"It was only a matter of time before it caused a fire," the force added. No arrests have been made.