Tuxedo Royale blaze suspicious, police say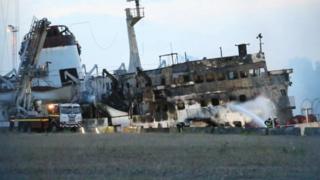 A fire which broke out on a former floating nightclub is being treated as suspicious, police said.
The Tuxedo Royale, which is berthed on the River Tees at Middlesbrough, burst into flames on Wednesday.
Cleveland Police said their investigation would take some time due to the condition of the boat.
Campaigners had been hoping to restore the vessel, which used to be moored at Gateshead and attracted hordes of party-goers.
Middlesbrough Council had branded it an "eyesore" and in March announced its intention to have it scrapped.
The ship's owners went into administration in 2009, leaving no-one responsible for its maintenance.