Hartlepool man attacked 'over Manchester bomb'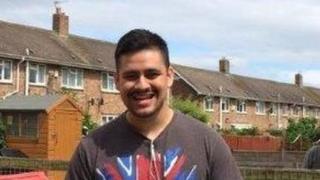 The victim of a suspected hate crime claims he was blamed for the Manchester bombing by his assailants.
James Imray, 21, whose father is from India, said he was punched and kicked in the head during the assault in Hartlepool.
He said: "You can't go round hitting people simply because they are a different colour."
Suicide bomber Salman Abedi killed 22 people at the Manchester Arena after an Ariana Grande concert on 22 May.
Cleveland Police said they were treating the attack on Mr Imray six days later as a hate crime.
'Incredibly sad'
It happened on Eskdale Road at about 20:00 BST after a man who "seemed friendly" called him over, Mr Imray told BBC Tees.
"I walked over, he immediately starts ranting about the bombings, how I'm somehow responsible," he said.
"I called him an idiot and walked away, but he followed me."
The man, aged in his late 30s or early 40s, then punched Mr Imray and grabbed him in a headlock.
A second man, in his teens, then kicked him in the face, knocking him to the pavement.
Mr Imray, who was not seriously hurt, said it was "incredibly sad we have people like this in our town".