Dead deer found in bin bags at County Durham picnic spot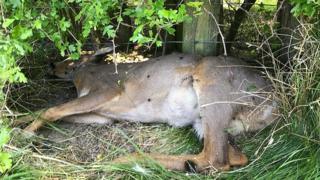 Bin bags containing the butchered remains of six wild deer were found by members of the public at a picnic area.
A total of eight deer have been found dead in three separate incidents in County Durham over the past two weeks, police said.
The bin bags were discovered near Consett and two further deer were found in the village of East Hedleyhope, near Darlington.
Durham Police said one had been shot on farmland and the other killed by dogs.
'Left to rot'
Officers were alerted to the six bin bags in Whitehall picnic area and car park on Waskerley Way, which lies on the Coast to Coast cycle route, on 2 June.
"Inside the bags were the butchered remains of six deer," a force spokesman said.
"Two further incidents were reported in the East Hedleyhope area where deer have been killed and left to rot."
Insp Keith Wardle added: "These remains were very disturbing for the people who discovered them and we're working hard to identify those responsible.
"We're urging anyone who knows anything about the incidents, or saw any suspicious vehicles or people in the area to come forward."