Middlesbrough Council chief 'misleading over officer redundancy'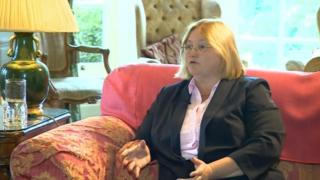 A council boss "misled" councillors into supporting the dismissal of an officer, a tribunal has found.
Middlesbrough Council chief executive Tony Parkinson "withheld information" from councillors who were making a redundancy decision on Karen Whitmore.
Mrs Whitmore claimed she was made redundant because she refused to "turn a blind eye" to council failings.
The council said it would study the tribunal's finding that she was unfairly dismissed.
Mrs Whitmore, the assistant director of organisation and governance until June 2016, said she felt like she was targeted by managers after raising concerns about the council's selling of assets.
This included Acklam Hall which the council sold for £1.2m, which was lower than its market value.
Discrimination claims 'dropped'
She said: "There was a culture at Middlesbrough Council of turning a blind eye to where things had gone wrong, I was asked to do that and I refused to do so."
In the tribunal's findings, which have been seen by the BBC, it was found she was unfairly dismissed.
But the tribunal judge felt Ms Whitmore's claims about the sale of assets and there being a "laddish culture" were a separate issue.
Mrs Whitmore said: "The finding of unfair dismissal was based around the fact that misleading incorrect information was given to decision makers and information was withheld.
"The tribunal found information was deliberately withheld from [councillors] and they took a decision on that basis."
A council spokesman said: "We will comment in due course once we have had chance to study the panel's findings in detail.
"We would like to clarify that Mrs Whitmore's discrimination claims were dropped in their entirety during the proceedings."
Compensation for Mrs Whitmore will be determined at a future date.