Cleveland part-time firefighter plan 'risks lives'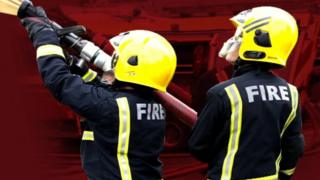 A fire service's plans to recruit more part-time firefighters will put lives at risk, the Fire Brigades Union (FBU) has said.
The retained on-call staff would have to live no more than five minutes away from their base.
Cleveland Fire Brigade said response times would not be affected.
FBU secretary Davy Howe said people would not "get assistance from the fire service - full, proper assistance - as quickly as they used to".
"It'll put them at risk of fire and all the other emergencies that we attend," he said.
"Firefighters are put at more danger because we get to emergencies when the fire has took hold more."
Cleveland Fire Brigade chief fire officer Ian Hayton said people could be "assured that they will get a fire appliance faster than anywhere else in this country".
"They are on-call to respond at any time and, yes, there is a five minute response standard to get actually to the station to mobilise - that's been taken into account," he said.
The fire service said it was looking for recruits for eight stations, six of which were already run by on-call officers.
Recruits will be given the same training as full-time staff and the plans were not intended as a cost cutting exercise, it said.
The number of firefighters in the region has reduced from 500 to 300 over the past ten years, the FBU said.