Bradley Lowery: Jermain Defoe visits terminally ill youngster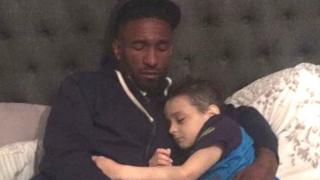 Footballer Jermain Defoe has visited terminally-ill Bradley Lowery after his family revealed the six-year-old is having difficulty breathing.
Former Sunderland star Defoe has struck up a close friendship with the avid Black Cats fan and club mascot.
Bradley, from Blackhall Colliery, near Hartlepool, has neuroblastoma and is receiving palliative care at home.
Defoe, 34, made the trip to County Durham on Friday, the day after he joined Premier League club Bournemouth.
Bradley's parents have already said they believe he has just a short time to live.
In a statement, his mother Gemma said: "Brad is very weak and finding breathing difficult, but he is fighting it.
"Last night, his best friend Jermain came to visit him and it was so heart warming seeing how Bradley reacted.
"He was so happy and laid for ages getting cuddles. Bradley was really relaxed with him."
Defoe, who pledged to keep in touch with the family after his move to Bournemouth, has described his relation with the ill youngster as the "highlight of his season".
"Away from football the relationship I've managed to develop with Bradley and what I've brought to his life and what he's brought to mine has been really special," he said.
"It's just been sad to see him go through what he has been and he's only six. But I still feel blessed that I'm able to be in his life."
Get news from the BBC in your inbox, each weekday morning