Kieran Maxwell's funeral takes place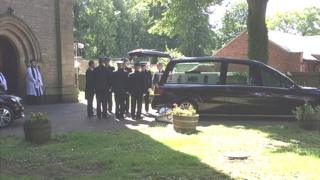 The funeral is taking place of a "courageous" teenager who continued to meet his sporting goals after being diagnosed with a rare bone cancer.
Kieran Maxwell, 18, from County Durham, was told six years ago he had Ewing's Sarcoma and lost part of his left leg.
In 2012, he stumbled and dropped the Olympic Torch while carrying it through Bishop Auckland, but carried on after being helped up.
The torch was placed inside the hearse carrying Kieran's coffin.
He died last month. The funeral service is being held at St John's Church in Shildon for Kieran, who died last month.
His coffin was carried into the church by uniformed officers from Durham Police as mourners listened to Lily's Theme from the Harry Potter films.
The Reverend David Tomlinson told the congregation how Kieran, from Heighington, coped with his illness by living life "more quickly" than others.
He also told mourners how Kieran had also raised money to help others.
Kieran took up gymnastics to help with his rehabilitation when learning to walk again and in the space of one year he qualified for the NDP National Championships.
A keen athlete, he also went on to take part in the mini Great North Run during his chemotherapy treatment.
The Rev Tomlinson said: "This is about celebrating Kieran - the boy, the man - who loved his family to bits.
"And this is about celebrating the Kieran his family knew best, the one with the cheeky smile, great courage, and real compassion."
The vicar described how Kieran's aunt Rosanne wrote: "I hope you know I love you to the ends of the earth and back, I can only hope that you find peace somewhere, I just wish that could have been with us.
"You fought so hard for so long and I promise you we will carry on the fight for you so you can rest."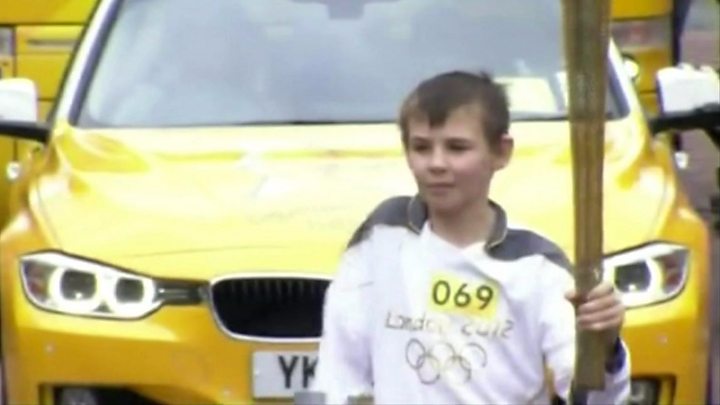 In October 2016, Kieran learnt his cancer was terminal.
The teenager set up the Kieran Maxwell Legacy charity in the hope of funding a researcher to look into the rare form of bone cancer.
He said his "final wish in life" was to raise enough money so what had happened to him "didn't happen to any other child".