County Durham teaching assistants reject pay deal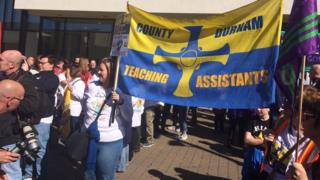 The majority of teaching assistants in County Durham have rejected a deal aimed at ending an 18-month dispute.
County council plans to pay its 2,000 support staff during term time only prompted a series of strikes.
Last month the authority put forward a new grading structure and pledged to compensate those out of pocket.
But members of Unison, which represents the bulk of the teaching assistants, rejected the offer in a ballot.
The union claims introducing term-time only pay would see some assistants lose up to 23% of their salary.
Under the latest offer, assistants would have been given new terms and conditions and a threat to dismiss and rehire them withdrawn.
'Significant concerns'
Those worst affected by the shift to term-time only working would also have been compensated for a period of two years.
A spokeswoman for Unison said: "We have had a democratic vote and the majority of those that took part in the consultative ballot rejected the council's revised offer.
"Our members still have significant concerns about the additional hours they were being asked to work and also the compensation offered those that would be worst affected.
"We remain willing to negotiate with the council and would urge them to get back round the table with us as soon as possible."
John Hewitt, the council's corporate director for resources, said: "We recognise the result of the Unison ballot.
"We will continue to work with the recognised trade unions to consider next steps and how we move forward."