Hartlepool Tata steel-pipe mill sale 'safeguards jobs'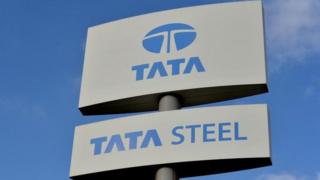 The sale of two troubled steelworks has been agreed, with claims jobs will be safeguarded.
International metals group Liberty House has signed a provisional deal with Tata Steel UK to buy Britain's largest steel-pipe mills in Hartlepool.
Liberty executive chairman Sanjeev Gupta said the town's "world class" mills and skilled workforce were an "important addition" to the group.
The mills make heavy-duty pipes for the energy and construction industries.
Hartlepool Labour MP Mike Hill said "after a long period of uncertainty" the agreement was "very good news for the workforce, the local economy and for the future of the steel industry in the town."
"Liberty's commitment to grow the business and invest in new jobs is a welcome development and is a testimony to the quality skills and manufacturing base we have," he said.
'A new Britain'
Liberty said it planned a support package to safeguard the plants' remaining 140 jobs, recruit more staff and develop new products.
Tata Steel will retain a third mill on the site, employing 270 people, and plans a £1m investment.
Liberty has already bought Tata's speciality steelworks in Yorkshire, Lancashire and the West Midlands, and Scunthorpe's Caparo Merchant Bar mill.
The company would now have a workforce of nearly 5,000 across the UK, it said.
Tata Steel UK chief executive Bimlendra Jha said the sale was "an important step towards developing a more sustainable future for the rest of our UK business", which employs 8,500.
Middlesbrough Labour MP Andy McDonald said the deal not only showed "steelmaking can survive in the UK but that it is still a profitable core industry".
Liberty's Mr Gupta said the mills could be a "symbol of a new Britain, integrated with the world economy, exporting a world-class product globally once again".