Stockton's Globe theatre gets £10.5m council revamp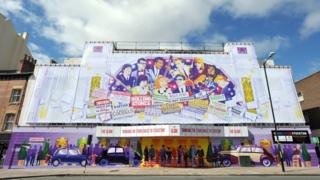 A council is spending £10.5m revamping a theatre in a bid to generate £18m a year for a Teesside town.
Stockton Council said a total of £15m would be spent restoring the town's Globe Theatre, with £4.5m coming from the Heritage Lottery Fund.
The authority, which has also pledged £17m towards the cost of a new hotel in the town, said the deal would result in one of the north's largest venues.
Critics have said the money would be better spent on public services.
Stockton Council leader Bob Cook said the project, which will create the equivalent of 250 full-time jobs, would attract big names in comedy and music when completed in 2019.
Mr Cook said the authority would borrow the £10.5m, but was confident it would "reap rewards" for the town.
The deal will see a profit-sharing arrangement with Ambassador Theatre Group, which will run the Globe.
The company owns and operates 50 venues worldwide, including several in London's West End and on Broadway in New York.
Mr Cook said: "This is capital expenditure. A project of this scale and nature requires substantial investment to attract world class operators and to be feasible outside of London.
"Our investment is justified because what we are going to get at the end of this is one of the best music and comedy venues in the north of England.
"It's also justified because of the benefit we will see in the local economy to the tune of £18m a year."
But chair of Thornaby Town Council, and former Stockton councillor, Steve Walmsley, said council cash would be better spent on public services which he said were "being decimated".
"The council is gambling with people's money, with public money, and on these types of ventures that is questionable, especially when all our services are being cut."
The Grade II-listed art-deco Globe opened in 1935 and has hosted acts including the Rolling Stones and the Beatles.
The 2,500-seater theatre closed in 1997. The newly revamped theatre will have capacity for 3,000.