Double jeopardy killer Billy Dunlop cleared of child sex crimes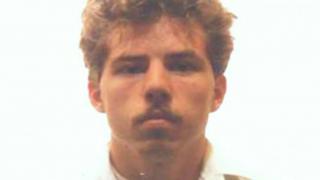 A convicted murderer who made legal history has been cleared of sexually assaulting two girls.
Double jeopardy killer Billy Dunlop, 54, who is serving life for the 1989 murder of Julie Hogg, has been found not guilty of five allegations of rape and indecent assault.
A jury at Teesside Crown Court took two-and-a-half hours to acquit him.
Dunlop, from Billingham, was convicted of killing Ms Hogg in 2006 after a campaign by her mother Ann Ming.
She fought for years to change the 800-year-old double jeopardy laws that a defendant could not be tried twice for the same offence if they had already been cleared.
Dunlop strangled his victim and hid her body behind a bath panel but police originally treated the case as a missing person inquiry.
Mrs Ming discovered her daughter's remains weeks later and Dunlop was arrested.
He was tried twice at Newcastle Crown Court but a jury could not make a decision and he was formally cleared after the second hearing.
Years later, while serving a jail sentence for an assault, he boasted to a prison officer about killing Ms Hogg, believing nothing could be done because of the double jeopardy rules.
But centuries-old law was overturned after years of campaigning by Mrs Ming and in 2006 Dunlop was handed a life sentence at the Old Bailey, with a minimum 17-year term.
During his trial for the child sex offences, which he was accused of committing in the mid-80s, Dunlop told the jury: "I've been a violent man but I don't molest children."
Judge Simon Bourne-Arton thanked the jury for their "dispassionate view" of the case.
"It has not been an easy case," he said.