Cleveland Police knife amnesty follows hundreds of crimes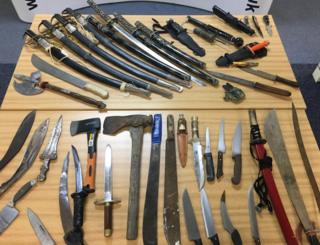 A police force is holding a knife amnesty after hundreds of assaults, eight attempted murders and nearly 100 robberies were carried out using sharp weapons.
Cleveland Police said people could hand in such weapons "without fear of prosecution".
An amnesty just two months ago collected 172 knives and sharp objects
Supt Dave Sutherland said they "could be deadly if they are in the wrong hands".
Last year the force dealt with 381 assaults, eight attempted murders, 39 threats to kill, 96 robberies and 489 damaged vehicles all involving knives.
The amnesty will run until 23 July at its four main police stations at Middlesbrough, Kirkleatham, Stockton and Hartlepool.