Kieran Maxwell : Para-athletes wear wristbands in teenager's memory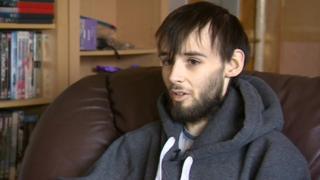 Team GB athletes taking part in World Para-athletics Championships in London are wearing wristbands in memory of a teenage Paralympian.
Kieran Maxwell, 18, from Heighington lost his battle with cancer last month.
He was diagnosed with Ewing's Sarcoma six years ago and lost part of his left leg, but became a keen athlete.
In 2015 he won Gold at the Brazilian Paralympic School Games, and was on track to compete in the Tokyo 2020 Paralympics.
Kieran hit the headlines when he stumbled to the ground while carrying the Olympic Torch in Bishop Auckland, but carried on after he was picked up.
Until his death he continued to fundraise for research into Ewing's Sarcoma, and other childhood cancers.
At the games in London athletes have been wearing Kieran Maxwell Legacy Bands to show support for his charity.
These include Jonathan Broom-Edwards, who earlier won silver in the T44 high jump.