Redcar MP accuses Theresa May of 'snubbing' locals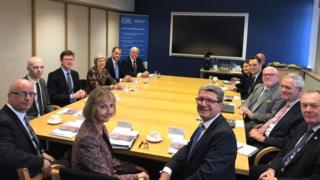 Theresa May "snubbed" local people during a visit to Teesside, the Labour MP for Redcar has said.
The Prime Minister was in the region for the official launch of the South Tees Development Corporation set up to develop the former steelworks site.
She said the body had "huge potential" and was important for future jobs.
However, Anna Turley said she had received "no invite, or even notice" of the visit and was "disappointed because it's a snub to the people I represent".
The steelworks closed in October 2015 with the loss of more than 2,000 jobs.
In February 2016, plans were announced for a new development corporation - the first of its kind outside London - to unlock greater planning powers and make it eligible for business developments grants.
Speaking at its launch on Wednesday, Mrs May said: "The South Tees Development Corporation ... is a prime example of how placing power in the hands of local communities can drive growth.
"To deliver a strong, outward-looking Northern Powerhouse, part of an industrial strategy that works to improve productivity, we have to see all corners of the north reach their full economic potential."
It will be chaired by Tees Valley Mayor Ben Houchen, who said he was urging businesses to come to Redcar and see the "fantastic infrastructure, good transport connections and local highly-skilled workforce within its catchment area".
But Anna Turley accused Mrs May of ignoring parliamentary protocol by not even notifying her of her visit.
'Scene of the crime'
She said she wondered what the PM thought of "the devastation wrought by the Tories at the SSI site ... the crumbling coke ovens and the rusting blast furnace", which was the "visible symbol of their failure to act to save Teesside steel, when they seemed more than willing to act in Wales."
Ms Turley added: "Whilst plans and ambitions for the site are good, it seems it will be many years before jobs actually start to appear."
Meanwhile, Middlesbrough's Labour MP, Andy McDonald, said the government had "stood idly by" as almost 3,000 steelworkers lost their jobs and added: "The Prime Minister has some nerve by coming back to the scene of the crime.
"This is nothing more than closing the stable door well after the horse has bolted."