'Noisy' Darlington Cricket Club sparks neighbours row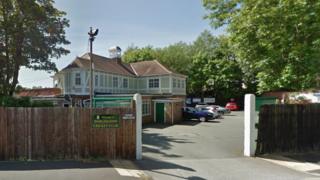 A planning dispute has erupted between a cricket club and its neighbours after residents said players were too noisy.
While the sound of leather on willow may be music to the ears for some, it is an irritation for people living near Darlington Cricket Club.
A retrospective planning application for a new practice area and two sets of nets has been submitted by the club.
But some residents of a new estate bordering the Feethams ground have objected due to noise during practice.
Darlington Borough Council's planning committee heard complaints from residents living close to the ground.
They included "the noise of the bat striking the ball" and "the effort of batting and bowling" and the lack of privacy caused by the nets.
One letter complained about men "dropping their trousers to remove thigh pads and boxes in their underwear".
The club has been at the same ground in County Durham since 1866 and plays in the North Yorkshire and South Durham Premier League.
It said nets previously on the southern boundary of the cricket ground had deteriorated and needed replacing.
The practice pitches are due to be available to club players as well as local schools between April and September.
Residents who object to the plans say there are more suitable places on the field for the training facility.
The application has been recommended for approval by council officers with some conditions attached.