Cleveland Police knife amnesty nets swords and meat cleaver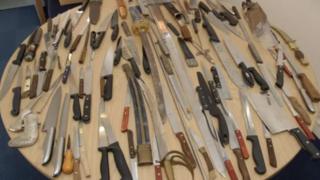 Swords and a meat cleaver were among the blades handed in to Cleveland Police during a recent knife amnesty.
A total of 106 items, which also included a machete and a World War Two bayonet, were given in at the force's four main stations.
It was is the second amnesty to be held this year, with an earlier one netting 172 knives and sharp objects.
Both were prompted by more than one thousand crimes involving knives in the force area last year.
Supt Dave Sutherland described both amnesties as "very successful".
He said: "Now that these knives have been handed in there are fewer potentially dangerous objects on the streets, which could help to prevent knife related crime in the future."