Sir Bradley Wiggins unveils memorial to Tom Simpson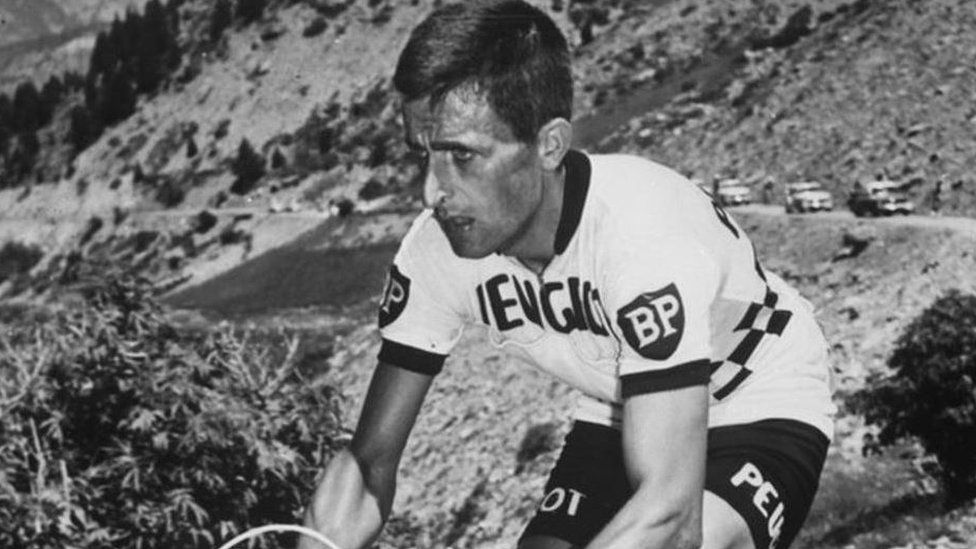 Former Olympic champion Sir Bradley Wiggins has unveiled a memorial to one of his cycling heroes in County Durham.
Tom Simpson was the first Briton to win the World Professional Road Race Championships and to don the Tour de France leader's yellow jersey.
The 29-year-old died in controversial circumstances during the 1967 Tour de France from heart failure. Traces of amphetamines were found in his body.
The memorial stone was unveiled in Mr Simpson's home village of Haswell.
Mr Simpson collapsed with exhaustion climbing up the notorious Mont Ventoux on the edge of the Alps, during the 13th stage of the Tour de France in July 1967.
A post-mortem examination showed traces of amphetamines in his blood, which was legal at the time, but prompted the International Cycling Union to ban the use of any performance-enhancing drugs in the sport.
Memorials already exist at the site where he collapsed in France and in Harworth, Nottinghamshire, where his family moved in 1949.
"He was certainly my hero and will continue to be and it is an honour to unveil this memorial."
Mr Simpson's nephew Chris Sidwells said the controversy surrounding Mr Simpson's death had "tainted" his memory.
He said: "There's no doubt that amphetamines were found in his system but officially he died of a heart attack through dehydration.
"It's what gets talked about a lot and it's a shame because he won races that British riders still haven't won."
A fundraising campaign headed by Mrs Simpson's family who still live in County Durham paid for the memorial.