County Durham teaching assistants pay row 'final offer'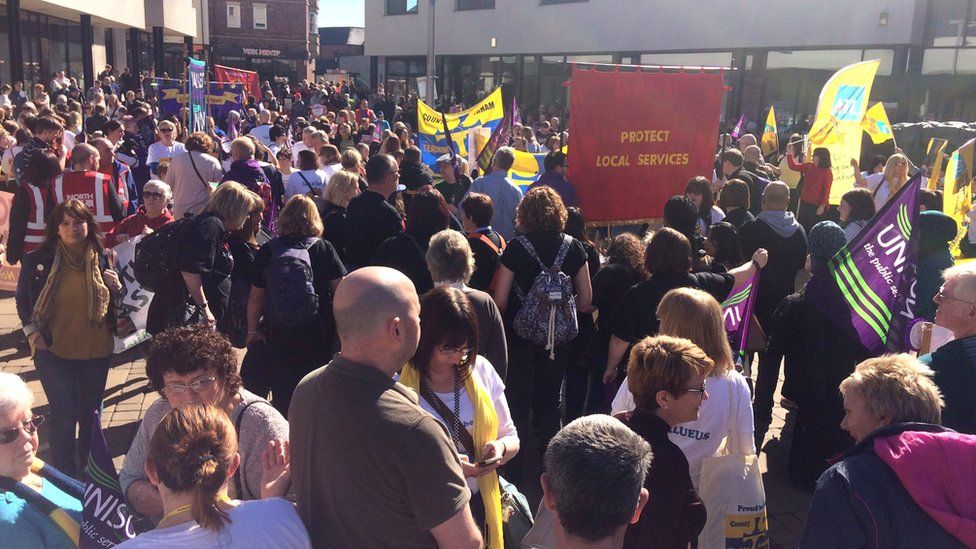 Teaching assistants in County Durham are to have a "final offer" put to them in an effort to bring a 20-month pay dispute to an end.
County council bosses want to pay 2,000 support staff during term time only.
The authority says it has revised its offer to include a two-year compensation deal and measures to improve career progression.
A council spokesman said: "We believe this offers all our teaching assistants the support and training they asked for to help them develop their careers.
"We are one of the first councils to establish a progression board that will ensure we can continue to work collaboratively to the benefit of our schools and ultimately the education of our young people.
"This review has resulted in clear and consistent job descriptions for all our teaching assistants which have been fairly graded, alongside structured training opportunities, which is of huge value to our education system."
But union member Megan Charlton who heads the County Durham Teaching Assistants Activists' Committee, said: "The crucial test of this will be how many of our members still face a pay loss.
"We also have question marks over the re-grading of teaching assistants and what extra roles they will have to take on just to avoid a pay cut.
"We are still all in this together and haven't come this far just to give up and leave a large number of people behind or accept a deal that will leave us with ongoing problems in the future."
The county council says it wants to implement the new deal by 1 January 2018.
Once finalised at a meeting on 20 September, the deal will then be put to union members in a ballot.
Related Internet Links
The BBC is not responsible for the content of external sites.