G4S bomb threat: Daniel Garland sentenced over £1m blackmail plot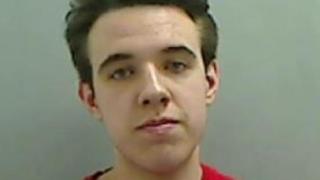 A G4S worker who threatened to blow up vans unless he was paid £1m has been sentenced to two years in a young offenders' institute.
Daniel Garland sent an anonymous letter to the firm in January claiming he had attached "mini-bombs" to vehicles which could be detonated remotely.
The 19-year-old from Chester-le-Street, County Durham, admitted a bomb hoax charge but was convicted of blackmail.
Garland apologised at Durham Crown Court for his "mindless actions".
His trial heard that after the letter was received by managers at the security firm's Thornaby depot, vehicles were recalled and searched and that losses were put at £15,000.
The subsequent police investigation involved more than 100 officers from four forces and cost an estimated £35,000.
Before he was sentenced, Garland read out a letter via a videolink from prison.
He said: "I would like to express my heartfelt apologies to the Crown, members of G4S, the police and any individuals that might have been affected by my mindless and thoughtless actions."
Recorder Euan Duff said: "We live in an age when bombs which can kill or maim are sadly a feature of modern life in the UK.
"No bomb threat can be taken lightly."
'Extremely distressing'
The judge accepted Garland never truly intended to make £1m from the letter, adding his intention was to get two colleagues into trouble.
The anonymous letter said the two were involved in an earlier, unsolved robbery on a cash-in-transit van.
Garland claimed he had been bullied by them at work but the judge dismissed that.
Nicole Horton, defending, said Garland was immature and naive and the letter was a "badly thought-out piece of revenge".
She said he had found being remanded in custody "extremely distressing" and has "had the shock of his life".