Bouncer employed to guard 'plagued' Stockton pharmacy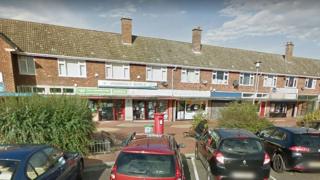 A pharmacy has employed a team of bouncers to protect staff who are being "plagued" by a gang of youths.
Manager Richard Lyness is paying a private security firm £1,200 a month to guard the entrance to the Pharmacy World shop in Stockton, Teesside.
He claims a "hardcore" group of youths are targeting the premises in the Roseworth area of the town and have even made threats to kill.
Cleveland Police said they would make arrests where necessary.
Mr Lyness said in recent weeks he and staff have endured racial slurs, indecent exposure and theft.
"We have had to employ a private security firm at £1,200 a month. We are a small business and we can't afford this long-term."
'Bored children'
He added: "We have been forced to do this because the police can't guarantee our safety and we have to make sure our patients and customers are safe.
"We have been doing flu vaccinations lately and elderly customers are telling us that they feel terrorised by these youths."
Paul Chapman, from the nearby Codfather fish and chip shop, said: "We don't need a minority spoiling it for everybody.
"The council are trying to improve the area but you have a hard core of 13 to 15-year-olds who are simply bored children who have been excluded from school and [have] nothing better to do."
Cleveland Police said officers have arranged a meeting with Mr Lyness "to address the issues affecting him specifically".
A spokesman added: "These people are small in number but they will not engage with us so we are having to look at other ways of moving things forward.
"We will continue to support Mr Lyness and take action against those individuals where it is appropriate for the police to do so."