Stockton protest against HMRC closure plans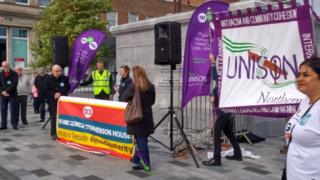 HMRC staff have held a protest against plans to close tax offices across the north east of England.
Posts at Middlesbrough, Thornaby, Peterlee and Sunderland, would relocate to Newcastle or Leeds, as part of a larger move to consolidate staff into a handful of regional centres by 2027.
Dozens of people took part in a rally in Stockton, which also called for a "just pay rise" for public servants.
Shutting "isolated and out-dated offices" would save £100m, HMRC said.
List of HMRC offices to close, and when
Gordon Rowntree, branch secretary of the PCS union, said: "The vast majority of our members find it totally unreasonable to have to travel up to an extra three hours a day and be expected to pay for the privilege.
"This is particularly difficult to accept when we have suffered increased hardship as a result of the 1% public sector pay cap and increased pension contributions."
HMRC said the new regional centres would bring staff together in more "modern and cost-effective buildings in areas with lower rents."