Paralympian Kieran Maxwell's family to continue fundraising legacy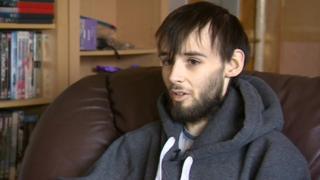 The family of a teenage Paralympian has vowed to continue the charity he set up before he died.
Kieran Maxwell, 18, from Heighington, near Darlington, lost part of his left leg after being diagnosed with Ewing's Sarcoma six years ago.
He was on track to compete in the Tokyo 2020 Paralympics, but lost his battle with cancer in June.
His mother said the family was learning how to continue fundraising as it was Kieran who had managed the charity.
Kieran hit the headlines when he fell while carrying the Olympic torch in Bishop Auckland in 2012, but carried on after he was picked up.
Nicola Maxwell said her son, who won gold at the Brazilian Paralympic School Games in 2015, had "so much to give to the world".
She said: "We are determined to honour what he wanted to do, but I'm still learning as I'm going.
"I was the chauffeur as far as the charity was concerned. Kieran did all the organising.
"But I'm lucky that I have got an amazing family that is helping move things along."
She added: "We've also got great friends who help in every way they can because, like us, they don't want any other family to go through what we have."