Rapist who saw women as 'lesser beings' is jailed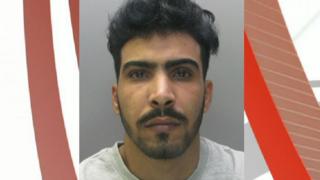 A man who raped a stranger on a riverbank and regarded women as "lesser beings" has been jailed for 12 years.
Abdel-Aziz Al-Shamary, 21, attacked the woman near the River Skerne in Darlington in May having watched outdoor porn on his phone.
The takeaway worker punched his victim twice in the face, dragged her to the floor and raped her.
Al-Shamary, of Pensbury Street, Darlington, denied the offence but was convicted on 16 October.
Teesside Crown Court heard he had drunk a bottle of Jack Daniel's and Johnnie Walker whisky and was said by the judge to have been "thrilled" by the idea of what he did having watched the porn.
Al-Shamary spotted his victim walking alone after a night out and threatened to kill her if she reported the attack.
Two women in a passing car followed him and alerted police.
Bedouin family
Al-Shamary, from a Bedouin family who spent a considerable amount of money to get him to the UK from Kuwait, refused to be dealt with by a female police officer - saying he only spoke to men.
He also called the UK a "bitch country", prosecutor Paul Abrahams said.
Judge Sean Morris expressed the hope he would be deported after serving half his jail sentence.
He said: "You had a sheltered upbringing in a Bedouin family with very little contact with the opposite sex.
"It is quite clear to me you have a problem with females and you regard them as lesser beings, as evidenced by your behaviour to the female police officer, and I am of the view that this was as much about degradation and humiliation as about sexual pleasure."
Al-Shamary, who maintained his innocence, was put on the sex offenders register for life.