Bruises found on toddler Paul Booth weeks before his death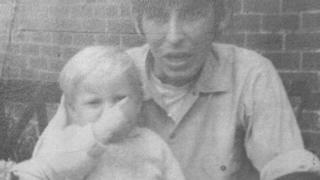 Bruises were seen on the body of a boy, allegedly murdered by his stepfather, by a council childcare worker a month before he died, a court has heard.
David Dearlove denies killing 19-month-old Paul Booth in Stockton in 1968 by cracking his head on a fireplace.
The 71-year-old claims Paul fell out of bed and struck his head on the floor.
Teesside Crown Court heard from then childcare officer Sheila Plummer, who visited the family home after being alerted by staff at the boy's nursery.
The court heard she was accompanied by an NSPCC inspector and that photographs of the bruises were taken.
She said Paul's mother, Carol Booth, who is now dead, said bruises on his back were caused by him falling down the stairs and another on his temple due to a moped or motorbike falling on him.
She said at the time she accepted the answers given and did not speak to Mr Dearlove.
Earlier the jury was read a statement from a neighbour, Dorothy Hopton, now deceased, who saw Mr Dearlove trying to give Paul the kiss of life.
She remembered Mrs Booth knocking on her door in tears and telling her "the baby had stopped breathing".
She went into their home and saw Paul unconscious on the settee, lying in vest and pyjamas.
Her statement said: "David Dearlove was trying to give him the kiss of life. He was lifting his eyelids and putting his finger in his mouth.
"David Dearlove said he had fallen out of bed, the woman [Mrs] Booth did not answer as she was still sobbing.
"I saw a red mark on the child's right hand. David Dearlove said it had been burnt on the hot water pipes upstairs."
The court also heard from the then family babysitter, Barbara Flemming, who recalled seeing Mrs Booth concealing a black eye with make-up.
She told the court: "I was fascinated how she covered this up, but she never spoke to me about it."
The trial continues.