David Dearlove: The Facebook post that caught a killer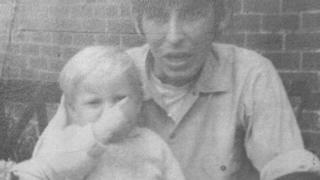 David Dearlove has been found guilty of murdering his 19-month-old stepson Paul Booth by swinging him by the ankles into a fireplace, smashing his skull. It would be almost 50 years before the killer's secret would finally be exposed after a seemingly innocuous post on Facebook.
When he saw the faded picture of his little brother Paul on his stepfather's knee, Peter Booth became incensed.
The 53-year-old had spotted the photograph posted by a family member on social media - reigniting in him a long-buried anger at what he saw on the night of 1 October, 1968.
Not for the first time, he went to the police and recounted how just before his fourth birthday, he had watched through a crack in the door as David Dearlove swung the toddler into the fire surround.
Terrified, he fled back up the stairs of the family home in Stockton, Teesside.
"All you were ever told was that Paul had died by falling out of bed and hitting his head," Mr Booth had told Teesside Crown Court at his stepfather's trial.
"When I told my mum what I had seen she totally blanked me and did not want to know.
"Whenever Paul's name was mentioned, just a brick wall would go up.
"We were never asked, it was never spoken about. One minute he was there, the next he was gone.
"The image has haunted me since I was almost four years old to standing here today."
Dearlove had denied murder and maintained - as he had done for five decades - that the little boy fell out of bed.
The youngster died the same night in hospital, having suffered a fractured skull, and an open verdict - a finding that confirms cause of death was not known - at the inquest laid the matter to rest for many years.
But for Mr Booth, what he saw the night he crept downstairs for a drink and peered around the door continued to plague him.
The Facebook post only cemented his sense of injustice.
"Dearlove's son David posted an image of his dad with Paul and I got angry," Mr Booth told jurors.
"I did not want it on there because of what he had done to Paul and what he had done to me."
He went to his local police station in Sussex, who advised him to contact the original investigating force, Cleveland Police.
The court had heard Mr Booth had previously reported the matter to officers at Billingham police station on Teesside in the 1990s and at Burgess Hill station in Sussex 10 years later.
However, it was his statement in 2015 to police - who said there was no record of any reports at either force of a murder being reported by anyone named Mr Booth - that led to a new investigation.
But the passage of time posed a challenge for prosecutors.
A key witness, the boys' mother Carol Booth, had died. It was discovered that Paul's burial records were missing and his resting place was also unknown, meaning his remains could not be exhumed.
"Initially we thought we were [just] going on the evidence of an almost four-year-old child," said John Brennan, from the Crown Prosecution Service.
"So we started right at the beginning and retrieved the coroner's report, which was actually in fantastic order.
"[But] we didn't know where the baby was buried so couldn't do a modern-day post-mortem [examination]."
The report, however, contained photographs that showed injuries to Paul's feet and ankles, which were consistent with being held and swung.
The photos also showed evidence of substantial older bruising to his body sustained on several occasions and that both his front teeth had been knocked out.
But one of the most compelling pieces of evidence was the shape of the child's fracture - a Z-formation that crossed two plates in his skull and which was not consistent with him hitting a hard floor.
Had that been the case, experts agreed it would have been a straight line, Mr Brennan said.
It was in light of this evidence that prosecutor Richard Wright QC asked the court to consider how one so young could sustain such a "substantial history of injuries".
"[They were] occasioned to Paul in a series of incidents prior to his death, often at a time when only David Dearlove was present and in charge of the child," he told jurors.
"The death of Paul Booth had been no accident. It had been as the result of a deliberate act. It had been murder."
You might also be interested in:
Dearlove, now 71, was convicted on the fourth day of jury deliberations and jailed for life with a minimum 13-year term.
He was also found guilty of three counts of child cruelty, based on the accounts put forward of the abuse Mr Booth and his sister, Stephanie Marron, suffered at their stepfather's hands.
The court heard how Mr Booth was subjected to "gratuitous violence" and was "frightened" of Dearlove, who would regularly hold him under the water in the bath.
He said he was also repeatedly kicked and hit and on one occasion was left in the garden late at night for several hours.
Ms Marron said Dearlove used to regularly lie on top of her when she was in bed until she struggled to breathe then punch her, saying: "That'll give you something to cry about."
On another occasion, she told police, he dragged her down the stairs feet-first, banging her head on the stairs.
Though justice has finally been served, Dearlove walked free for 50 years.
Notes made by a social worker two years after Paul's death referred to them as a "happy family", but shortly after the birth of his son, David, Dearlove left and moved to London, and later Great Yarmouth.
He went on to marry and have two daughters - though he never told them about his first family - and is now a grandfather.
Though Mr Booth had plucked up the courage to go to police about what he had seen, he was left "for 50 years with no help, counselling or support", Mr Brennan said.
However, he added the work done by Cleveland's dedicated team in bringing the case to justice should be commended.
"I don't think there can be many convictions based primarily on the evidence of a child, 50 years later."