Holme House Prison: Inspectors find 'serious' drug problem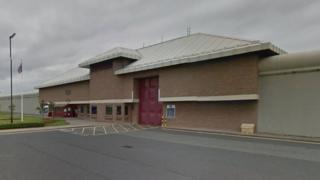 A prison on Teesside has a "very serious" drug problem, an inspection report has concluded.
HM Inspectorate of Prisons said a quarter of the 1,200 male inmates of Holme House near Stockton had acquired a drug problem while in the jail.
The prisons watchdog said violence had also gone up since it was last assessed four years ago.
HM Prison and Probation Service said the number of security and searching staff at the site had been increased.
Holme House is a Category B facility and was designated as one of a group of six reform prisons described as "trailblazer sites" in a major overhaul unveiled by ministers in May last year.
The changes were intended to give more flexibility to governors.
Chief inspector of prisons Peter Clarke said: "The prison was not as safe as it had been and at the heart of our concerns was a very serious problem with drugs.
"The threat to the well-being of individuals was manifest and rarely have we seen so many serious and repeated incidents of prisoners under the influence of clearly harmful substances."
Inspectors said mandatory drug testing results, finds and medical incidents indicated that new psychoactive substances - which were previously known as legal highs - were "easily available".
The report also raised particular concern over the use of Spice, a drug that mimics the effects of cannabis and has repeatedly been identified as a factor in surging levels of inmate violence.
It said many prisoners had difficulty in accessing the basics of daily living - including bedding, clean clothes and cleaning materials.
Michael Spurr, chief executive of HM Prison and Probation Service, said: "The change programme at Holme House has been undermined by the illicit supply and use of psychoactive drugs.
"Work is also taking place with NHS England to reduce drug dependency and as a result, violent and drug-related incidents have significantly reduced over recent months."